Wow, this is the coolest thing! This is a layout I did a little under a year ago. First, it was published in the February/March issue of
Digital Scrapbooking Magazine
. Then yesterday, I received this email:
I'm writing to you because Digital Scrapbooking magazine and Adobe needs your help for an upcoming project. Adobe is holding an event in New York City for the consumer press including Family Circle, Modern Bride and Seventeen magazines on June 24. They would like to provide their attendees with sample scrapbook pages created using Photoshop Elements and have asked Digital Scrapbooking to provide samples.

Your layout "How 'bout" from the February/March issue of Digital Scrapbooking magazine is one of the ones we'd like them to show off.

Your name, city and state will be included on a label on the reverse side of the printed layout. And, in the past, some publications have ended up using such scrapbook pages as examples in their publications!

We appreciate your help.

Is that not the coolest thing EVER?!
So, here is my little "How 'bout" layout!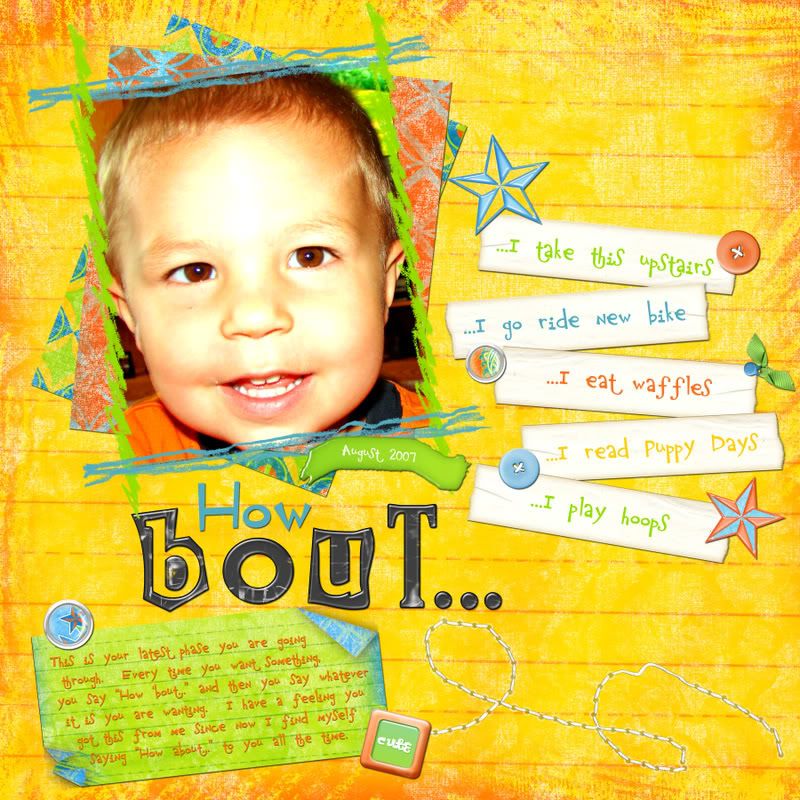 I'll have to look up the credits tonight when I get home and add them to this post later.