Ok, here are the rest of our pics from our trip this week. If you didn't see part 1, it's here.
Wednesday we headed out to the waterpark right at 9 am when it opened so we could get a great set of chairs by the lazy river. We ended up being right by this little beach like area (minus the sand) and it was great for Ty to play in and it had 6 little water things that shot up that entertained him quite a bit. Here's a little bit from that.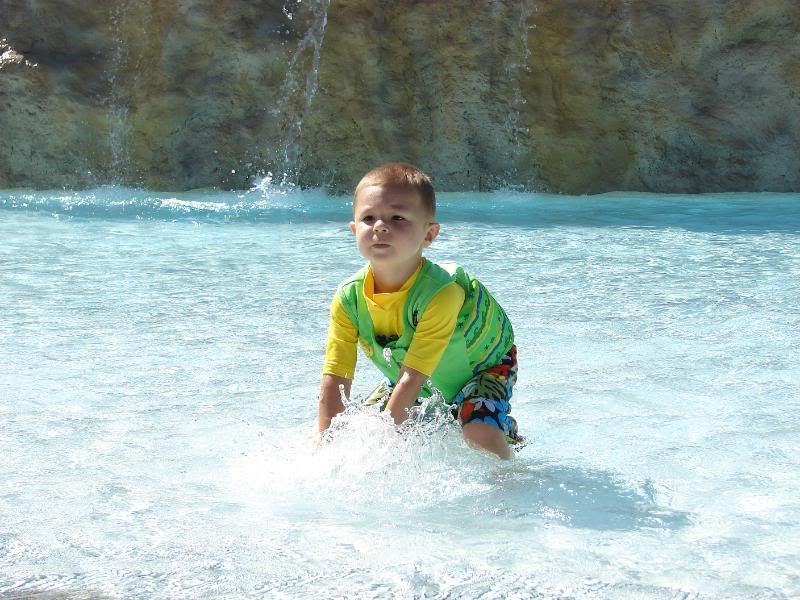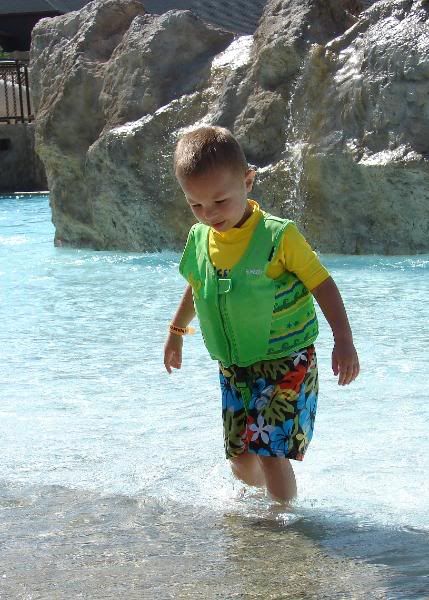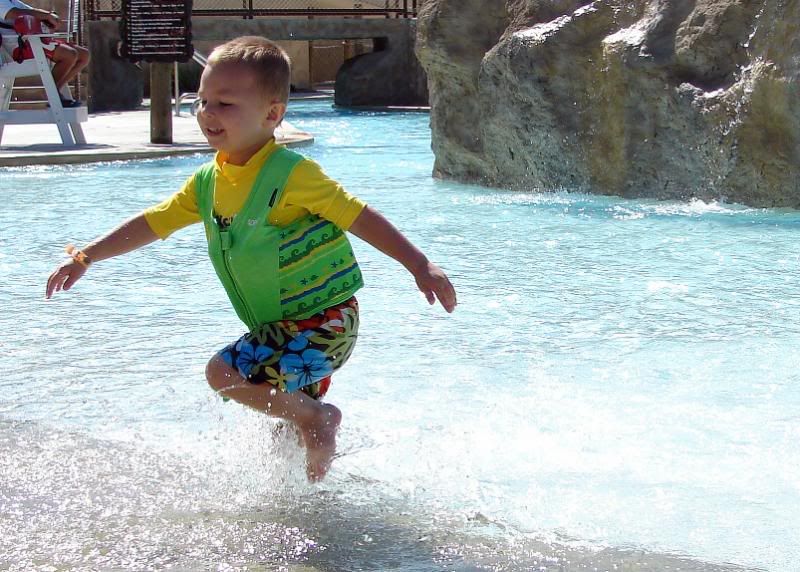 Back to the lazy river we go!


And taking a break for some Cheetos


That night we went out to dinner at Monk's Bar & Grill and attempted to take some family portraits of ourselves. They didn't turn out the greatest, but are still cute.


Then Ty decided to take a pic of Tony and I…


Then insisted on having his pic taken with each of us.


Best buds…


Then we went for another round of mini-golf and Ty got another hole in one!


There was a horse stable near our resort where you could go horseback riding. Ty had been wanting to see the horses all day long, so we went over to the stable to look at them. They were winding up for the day and were releasing all of the horses from the stable to go out to the field for the night, so it was a stampede!! Ty loved it though and thought it was hilarious to watch them all run by!


Thursday was the day we left. We wanted to get a big breakfast on our way out of town and were going to just go to Denny's. Until we saw this place..Paul Bunyan's Cook Shanty Restaurant. Ok, for those that know me well, you know this is SO not a place I'd go to. But, we took a chance and it was great! It was family style "Logging Breakfast" and it was all you can eat eggs, pancakes, sausage, biscuits & gravy, and has browns. And it was AWESOME!
Me and Ty at the "Shanty"


My "Loggers Breakfast"


Big Paul Bunyan statue outside


And then we headed out of town. Ty was a stinker the whole way home, but we managed to survive (and I'm reminded once again why I will not fly anywhere with a toddler, ever!)


Lovely storm that welcomed us back to MN…


It was a great getaway though that we really needed with our little family of three!