Ok, here are the rest of our pics from our trip this week. If you didn't see part 1, it's here.
Wednes­day we headed out to the water­park right at 9 am when it opened so we could get a great set of chairs by the lazy river. We ended up being right by this lit­tle beach like area (minus the sand) and it was great for Ty to play in and it had 6 lit­tle water things that shot up that enter­tained him quite a bit. Here's a lit­tle bit from that.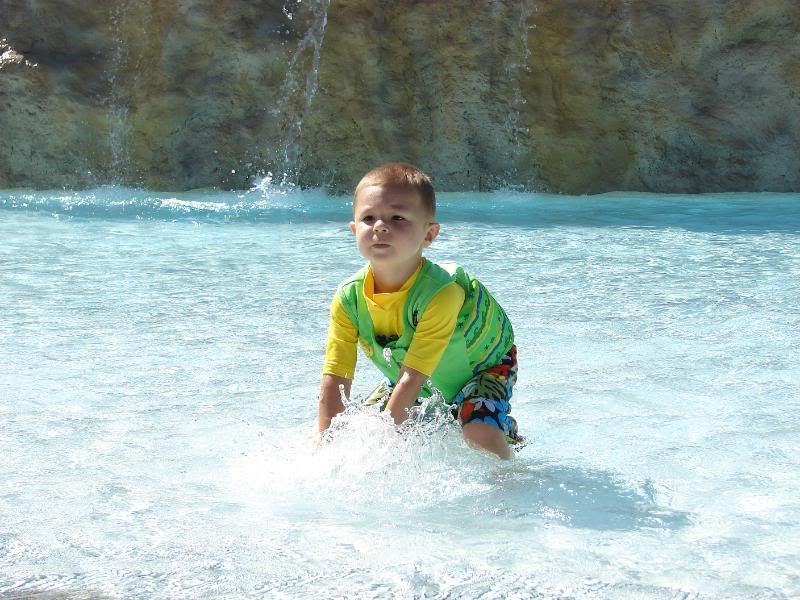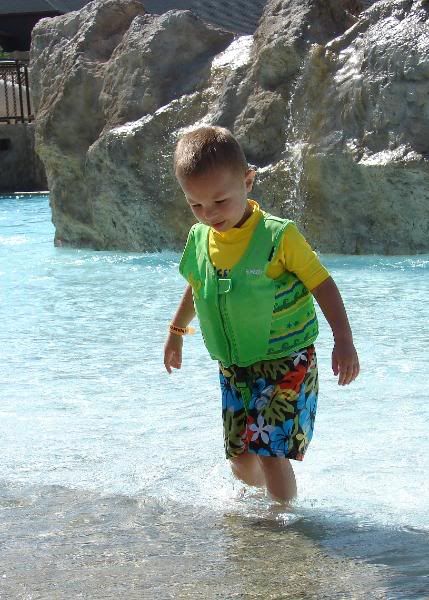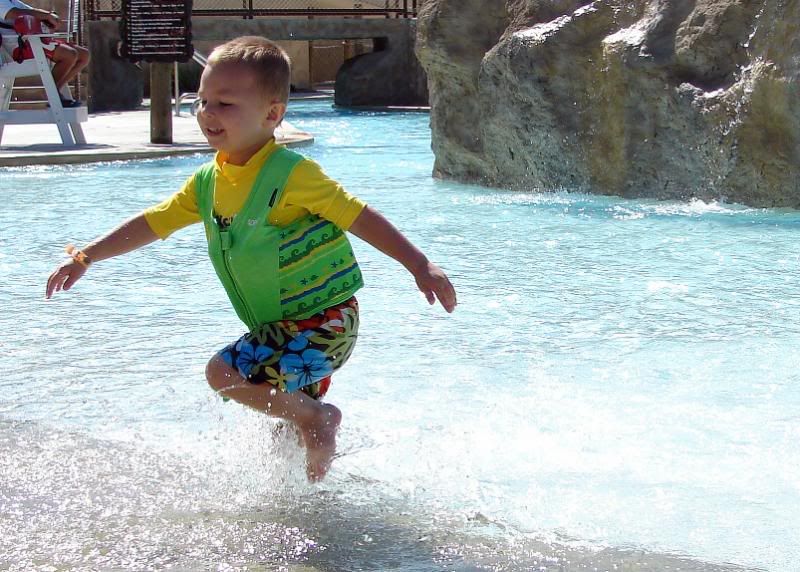 Back to the lazy river we go!


And tak­ing a break for some Chee­tos


That night we went out to din­ner at Monk's Bar & Grill and attempted to take some fam­ily por­traits of our­selves. They didn't turn out the great­est, but are still cute.


Then Ty decided to take a pic of Tony and I…


Then insisted on hav­ing his pic taken with each of us.


Best buds…


Then we went for another round of mini-golf and Ty got another hole in one!


There was a horse sta­ble near our resort where you could go horse­back rid­ing. Ty had been want­ing to see the horses all day long, so we went over to the sta­ble to look at them. They were wind­ing up for the day and were releas­ing all of the horses from the sta­ble to go out to the field for the night, so it was a stam­pede!! Ty loved it though and thought it was hilar­i­ous to watch them all run by!


Thurs­day was the day we left. We wanted to get a big break­fast on our way out of town and were going to just go to Denny's. Until we saw this place..Paul Bunyan's Cook Shanty Restau­rant. Ok, for those that know me well, you know this is SO not a place I'd go to. But, we took a chance and it was great! It was fam­ily style "Log­ging Break­fast" and it was all you can eat eggs, pan­cakes, sausage, bis­cuits & gravy, and has browns. And it was AWESOME!
Me and Ty at the "Shanty"


My "Log­gers Break­fast"


Big Paul Bun­yan statue out­side


And then we headed out of town. Ty was a stinker the whole way home, but we man­aged to sur­vive (and I'm reminded once again why I will not fly any­where with a tod­dler, ever!)


Lovely storm that wel­comed us back to MN…


It was a great get­away though that we really needed with our lit­tle fam­ily of three!